Many years ago, I was a fundraiser for a hospital in Orange County.
And believe it or not, our biggest and best group of donors were our employees. (That's right, hundreds of employees gave out of their paycheck to support the mission of the hospital – pretty awesome.)
The part that wasn't as awesome was deciding what activities to plan for our employee donors. Why? Everything had to be healthy. Our corporate office was VERY strict: No candy, no soda, no cookies, nothing delicious. JK.
The solution? A trail mix bar.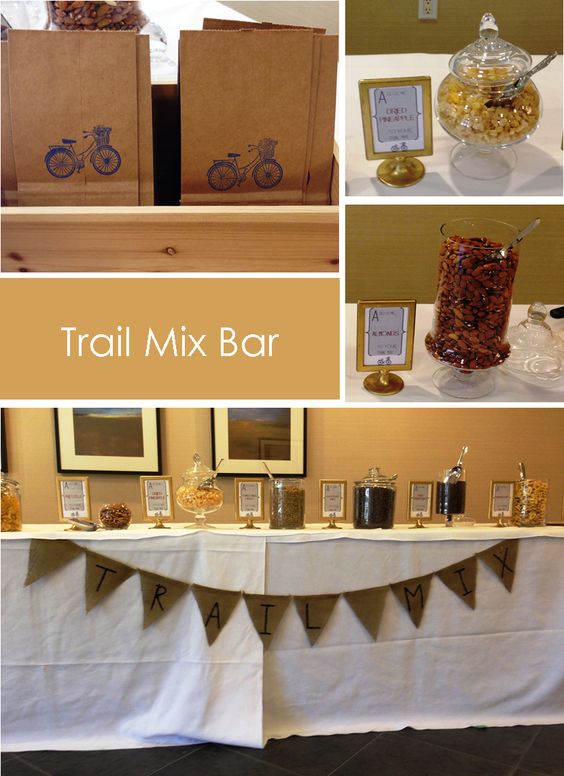 What I loved about planning a trail mix bar is that it took care of many dietary preferences: gluten-free, vegetarian, etc. We could even include those with nut-allergies (as long as we were careful not to contaminate the different jars/scoops.)
How'd we do it?
We started with paper bags from Uline. 500 of them. Then I had the brilliant idea to stamp them all with a bicycle stamp to make them look cute. No big deal, that'll just take 200 hours of your time.
But they look cute right?! #worthit
Then we planned out the trail mix items we'd buy. We ended up with:
40 pounds of raw almonds
40 pounds of roasted, unsalted peanuts
20 pounds of chocolate chips
15 pounds of sunflower seeds
15 pounds of cranberries
15 pounds of mini pretzels
10 pounds of dried pineapple
10 pounds of banana chips
10 pounds of dried mango
10 pounds of mini marshmallows
I know that sounds like a lot (and it is) but we needed to feed about 1000 people. That's a lotta nuts. I highly recommend going to store where you can buy wholesale, like Sprouts.
Next up? Jars! I had these amazing jars from Crate and Barrel. #thankyouweddingregistry. Then we ordered a few apothecary jars just for height and visual interest.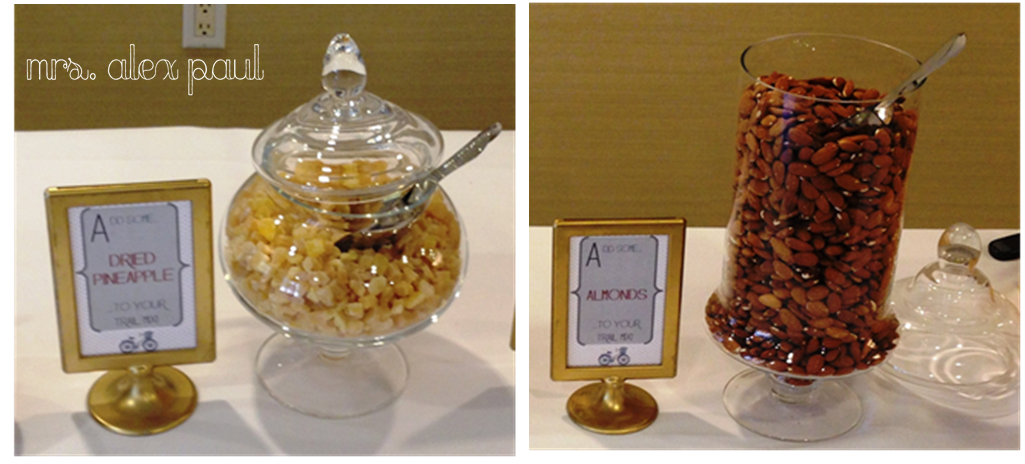 The metal scoops I found at Fresh and Easy..which no longer exists. But you can find a variety of metal/plastic candy scoops online. And these double-sided frames from Ikea were perfect for our double-sided trail mix bar. (Thank you to my coworker for spray-painting them gold!)
The finishing touch was a burlap bunting to keep the rustic feel and make sure people knew it was a trail mix bar! Literally just burlap, string, hot glue and a sharpie. #onabudget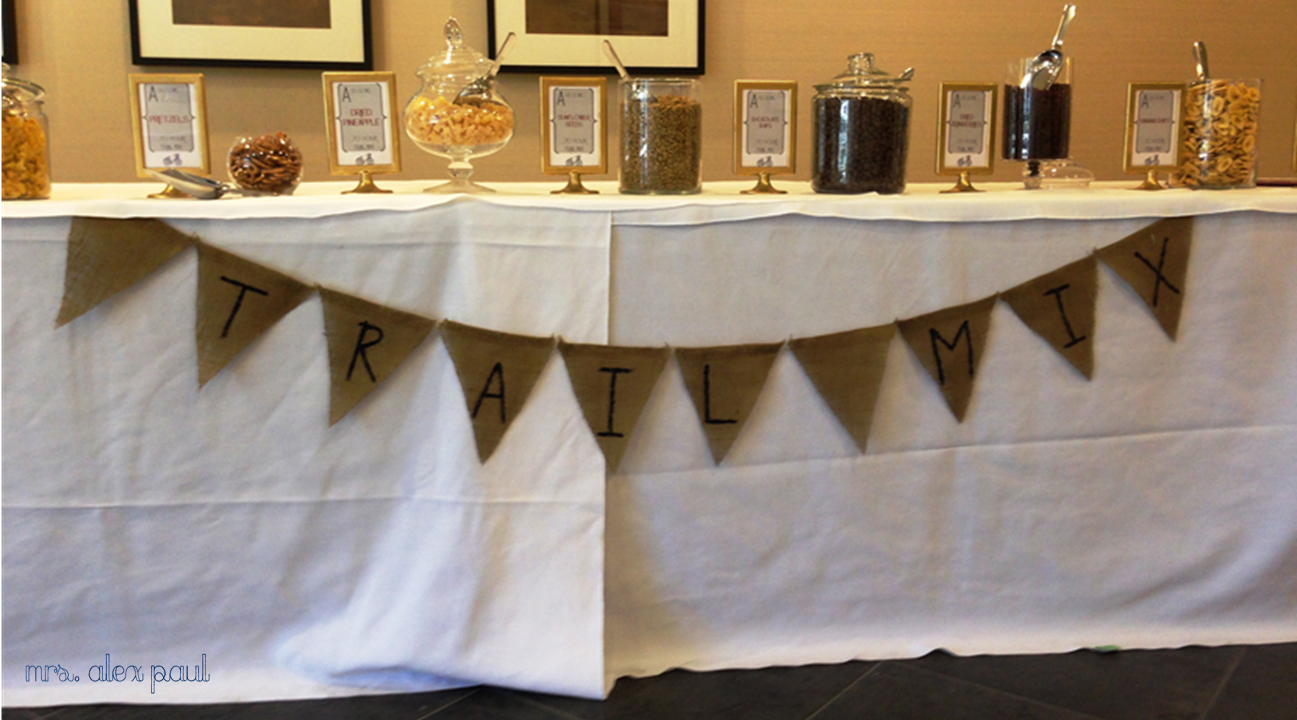 And voila! A trail mix bar that people loved. Not to toot my own horn..but toot toot.
Lessons learned after going through it? People don't want that many almonds and peanuts. I mistakenly thought people will want a large base of nuts and a small sprinkle of the other toppings.
WRONG.
People wanted way more chocolate chips, dried pineapple, mini marshmallows and dried mango. Those went first – and they went fast. So definitely don't make that mistake.
Hope this helps you plan an awesome trail mix bar for your events!
L,
Mrs. Alex Paul